'Maritime' means 'good time'! At least it did at our annual shipping drinks last week. However, it was not all fun and games – ironically, when the games started everyone became very serious and competitive. These pictures say it all! Click here to see them all and whether you recognise anyone who attended MasOceans shipping agency drinks.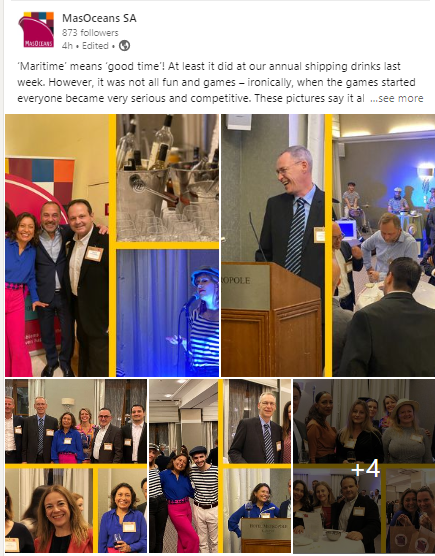 For those of you curious about the answers and how your team fared, the results are in:
Last year team Capas won our quiz, this year it was team Transcoma's turn. Congratulations to everyone in team Transcoma!
Transcoma – our winner
EMC
Holland Hellenic
Capas + Ocean Favor
Alphamar + Kanoo + Nisomar
Marti
Quiz answers
➡️From Transcoma Shipping: Put these Spanish ports in order of volume or cargo, starting with the largest (volumes considered from June 2022): Barcelona, Valencia, Tarragona, Algeciras, Cartagena
A: 1) Algeciras 2) Valencia 3) Barcelona 4) Cartagena 5) Tarragona
➡️From The Kanoo Group: Name the largest refinery in India (also the biggest refinery in the world)
A: Sikka/Jamnagar
➡️ From EMC Shipping Malta Ltd: What are the two biggest (only) ports in Malta?
A: Valetta and Marsaxlokk (there was an extra point for correct spelling)
➡️ From Martı Shipping: How many vessels pass through the Dardanelles and Bosphorus straits in a year?
A: 82,000
➡️ From Holland Hellenic Shipping Agencies Ltd: How many oil refineries are there in Greece?
A: Four
➡️ From Oceanfavor Group: What am I saying in Chinese? Měinián jìn 6,000 tiao Chuan.
A: 'B' (Almost 6'000 port calls a year)
Q: From Alphamar Agência Marítima: Which country does this music originate from?
A: Brazil
➡️ From NISOMAR GROUP: How many tons of cargo did Port Mombasa handle in 2021?
A: 34.54 million tons
➡️ From CAPAS EEV, CORP. – Shipping Agency : Which country does this music originate from?
A: Panama
➡️From MasOceans SA: What is our tagline?
A: 'A' – YOUR VESSELS, OUR PORTS
Thank you to everyone who joined us. We look forward to seeing how your new year blooms for you!
YOUR VESSELS, OUR PORTS
Do you have vessels globally and need someone who will solve shipping problems before they have even happened? Contact MasOceans SA and together with our local partners, your port calls will run smoothly.
Together with our local partners, we manage port calls in Argentina, Bahrain, Bangladesh, Brazil, Brazil, Chile, China, Columbia, Egypt, Ecuador, Greece, India, Indonesia, Iraq, Italy, Kenya, Kuwait, Malta, Mexico, North Africa, Oman, Pakistan, Panama, Qatar, Saudi Arabia, Singapore, Spain, Turkey, UAE, Ukraine, Uruguay and West Africa.
Book a port call with Martaxelle Erussard | martaxelle@masoceans.com | +41 (0) 22 552 00 51