Human trials for Chinese mRNA vaccine set to begin in China
The phase I clinical trial of the COVID-19 mRNA vaccine developed by a Shanghai-based biotechnology firm has completed patient enrollment in China, according to a report by online news portal ThePaper.cn.
Designed by Stemirna Therapeutics, the vaccine SW-BIC-213 is designed to offer protection against various strains of COVID-19, including the Delta, Omicron BA3, BA4, and BA5 variants, according to Shen Haifa, the chief technology officer of the company.
One hundred and twenty participants in China have been enrolled in the first phase of the trial, during which two doses will be administered 21 days apart. Participants will have their blood drawn and tested at different stages to determine the safety and efficacy of the vaccine.
Read the full details regarding COVID measures in China and the shipping situation in all major Chinese ports in the following reports.  These reports come directly from our agent, the largest, non-state-owned shipping agency in China, Ocean Favor.
>>> Weekly China shipping report – Week 33 – 2022
In this report you will receive:
The latest news on the COVID situation in China.
Information on extraordinary quarantine measures in place.
Updates on port operations.
The latest on crew changes.
>>> Port congestion report crude oil (17/08/2022)
>>> Port congestion report grain, iron ore and coal (17/08/2022)
>>> Live port quarantine requirements map for China
The latest information on quarantine requirements in Chinese ports.  Access our live map now, updated constantly with the latest information:  >>> Live quarantine requirements in China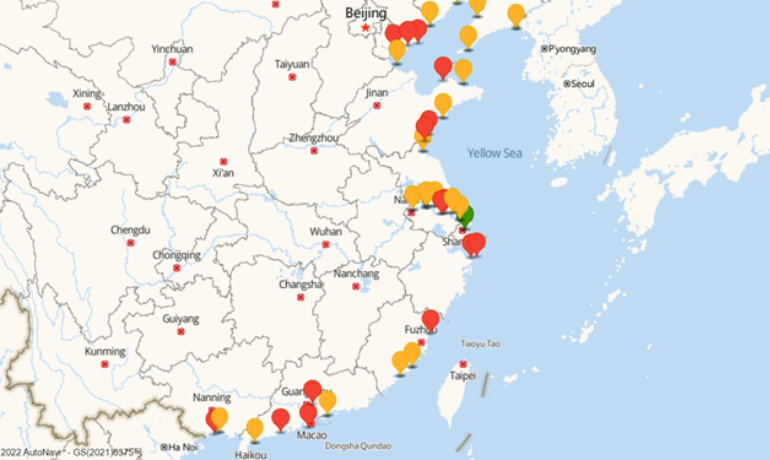 YOUR VESSELS, OUR PORTS
Do you have vessels in China and Singapore and need someone who will solve shipping problems before they have even happened? Contact MasOceans SA and together with our local partners, Ocean Favor, your port calls will run smoothly.
Together with Ocean Favor, we manage port calls in Basuo, Beihai, Changshu, Dalian, Dandong, Dongguan, Dongying, Fuzhou / Kemen, Guangzhou, Hongkong, Huanghua, Jiangyin, Jingtang / Caofeidian, Jinzhou, Lianyungang, Longkou, Maoming, Nanjing, Nantong/Rugao, Ningbo Ningde, Panjin, Penglai, Qingdao / Dongjiakou, Qinhuangdao, Qinzhou, Quanzhou, / Meizhouwan, Rizhao, Shantou, Shenzhen, Singapore, Taicang, Taizho,Tianjin, Xiamen, Yangjiang, Yangpu, Yantai, Yingkou, Zhangjiagang, Zhanjiang, Zhapu, Zhenjiang, Zhoushan and Zhuhai.
Book a port call with Martaxelle Erussard | martaxelle@masoceans.com | +41 (0) 22 552 00 51