Millions in lockdown in China
China yesterday reported its highest number of coronavirus cases since May, with millions in lockdown over the weekend.
Shanghai has ordered mass PCR screening in 9 districts. Other affected cities are rushing to curb the virus. Several large cities, including Shanghai, are rolling out new mass testing or extending lockdowns on millions of residents to counter new clusters of COVID-19 infections.
Read the full details regarding COVID measures in China and the shipping situation in all major Chinese ports in the following reports.  These reports come directly from our agent, the largest, non-state-owned shipping agency in China, Ocean Favor.
>>> Weekly China shipping report – Week 29 – 2022
In this report you will receive:
The latest news on the COVID situation in China.
Information on extraordinary quarantine measures in place.
Updates on port operations.
The latest on crew changes.
>>> Port congestion report crude oil (20/07/2022)
>>> Port congestion report grain, iron ore and coal (20/07/2022)
>>> Live port quarantine requirements map for China
The latest information on quarantine requirements in Chinese ports.  Access our live map now, updated constantly with the latest information:  >>> Live quarantine requirements in China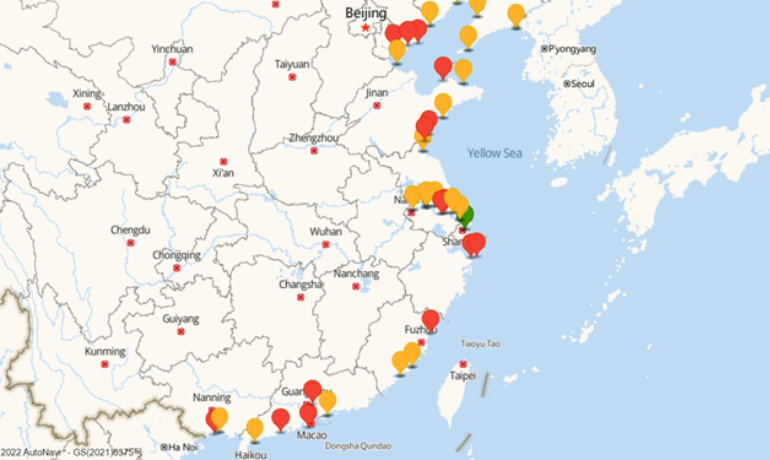 YOUR VESSELS, OUR PORTS
Do you have vessels in China and Singapore and need someone who will solve shipping problems before they have even happened? Contact MasOceans SA and together with our local partners, Ocean Favor, your port calls will run smoothly.
Together with Ocean Favor, we manage port calls in Basuo, Beihai, Changshu, Dalian, Dandong, Dongguan, Dongying, Fuzhou / Kemen, Guangzhou, Hongkong, Huanghua, Jiangyin, Jingtang / Caofeidian, Jinzhou, Lianyungang, Longkou, Maoming, Nanjing, Nantong/Rugao, Ningbo Ningde, Panjin, Penglai, Qingdao / Dongjiakou, Qinhuangdao, Qinzhou, Quanzhou, / Meizhouwan, Rizhao, Shantou, Shenzhen, Singapore, Taicang, Taizho,Tianjin, Xiamen, Yangjiang, Yangpu, Yantai, Yingkou, Zhangjiagang, Zhanjiang, Zhapu, Zhenjiang, Zhoushan and Zhuhai.
Book a port call with Martaxelle Erussard | martaxelle@masoceans.com | +41 (0) 22 552 00 51